Hello, everyone. Welcome to Wednesday.
Allow us to introduce "Unriddled" — the HubSpot Marketing Blog's mid-week digest of the tech news you need to know.
This week, we've got stories from Google, Amazon, Instagram, and more. So when the volume of stories of these has you asking, "Hold up. What just happened?" we're here to break it down.
It's tech news: explained.
Unriddled: The Tech News You Need
1. Finally: An iMessage Extension for the Google iOS App
Google announced this week that the iOS Google app will now support an iMessage extension: the horizontal list of icons that allows users to integrate app functionalities with messages sent from iOS devices.
The integration, which is currently only available in the U.S., allows users to share locations, general search results, GIF images, videos, and local business listings in messages — even to those who don't use iOS devices.

Google iOS extension to show search result previews in iMessage for the iPhone
In addition to those capabilities, the new integration with iOS also allows users to drag-and-drop text, images, and links between the Google app and others, like iMessage or Notes.
For example, according to the official announcement, to share something like an article you're reading on the Google app, all you have to do is tap and hold the link to drag it into iMessage — though our team had trouble getting that function to work properly.
It's a move among what some might describe as a contentious relationship between Google and Apple, with the two often appearing to one-up each other with product releases and announcements. The integration is a welcome feature for iOS users, and for those who are watching the competition between Google and Amazon play out in a less-than-user friendly way — more on that in a bit.
2. Google Has Sold Zagat
Google's 2011 purchase of Zagat, the legacy restaurant review guide, was one of the search engine giant's first forays into the realm of local businesses and the ratings of them.
Yesterday, it was announced that Google would be selling Zagat to The Infatuation, an online restaurant review site that, in a sense of irony, has claimed that it will bring back the print editions of Zagat guides — which were discontinued last year.
It's a move that practically indicates that Google has grown out of a need for a separately-branded restaurant review system, as its own version seems to have taken shape on Google Maps and Google for Business listings.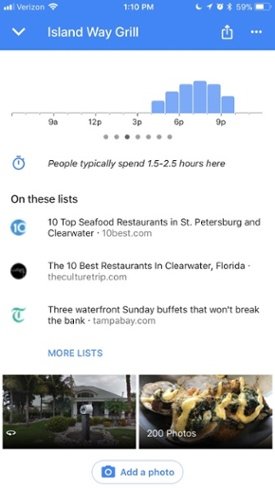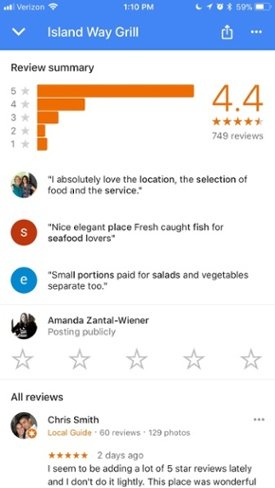 When users tap on a restaurant listing on Google Maps, for example, they can read reviews left by other Google users, and see third-party reviews and list rankings that were pulled into the business listing.
Google restaurant review for Island Way Grill
Google originally purchased Zagat for $151 million. The purchase price for The Infatuation has not been disclosed.
3. Instagram Could Soon Be Unveiling Its Own Portrait Mode
For those who did not care to spend upwards of $800 for a mobile device with built-in "portrait mode," take heart: Instagram may soon be unveiling its own feature with the same capabilities.
As first reported by TechCrunch, Instagram could be launching an in-app Portrait Mode imminently — which means that even if you didn't opt for the phone that's equipped with Portrait Mode for selfies, Instagram can provide similar technology for you.
But it's not exactly new. According to these reports, the setting has actually existed within Instagram's code for some time, and was discovered when a member of the TechCrunch team was picking apart the app's APK (which stands for Android Application Package: essentially an .exe file, but for Android devices).
Source: TechCrunch
What's not clear is how users can execute this feature now, before (and if) it's officially released. But it's a nod to a trend on behalf of many social media networks that emphasize a native content experience — one that allows users to capture, share, and engage with content without leaving that particular channel.
This move could be headed in that direction — allowing users to capture portrait-quality photos and selfies within Instagram, and without having to re-upload them to the app after taking them on their respective device cameras.
4.Reddit Admits It Was Used to Spread Election-Related Propaganda
In a public letter penned by CEO Steve Huffman, Reddit admitted to learning that Russian propaganda was shared by "thousands" of users on its network during the 2016 U.S. presidential election — most of them unknowingly.
While Facebook, Twitter, YouTube, and Google have continued to face scrutiny for the weaponization of their own networks to spread misinformation, Huffman wrote that Reddit's involvement wasn't so much about ads. Rather, it was about (largely American) users sharing this type of content — "content from accounts we suspect are of Russian origin or content linking directly to known propaganda domains" — without realizing where it originated. That's also the case when Reddit users share content of the same nature that was originally posted on Twitter — the kind of issue that Huffman described as "indirect propaganda … the most complex."
Using the example of Twitter account @TEN_GOP, which is now known to be of Russian origin, he explained that tweets from that account "were amplified by thousands of Reddit users."
Huffman concluded the letter by noting that Reddit would be "cooperating with congressional inquiries," though the nature of those inquiries is not immediately clear.
As of writing this post, Reddit has not been publicly asked to testify before any congressional committees, or submit any materials and evidence.
The full text of Huffman's letter follows.
5. Amazon Isn't Going to Sell Nest Products Anymore
Last week, when Amazon announced its acquisition of Ring — which manufactures things like connected doorbells and in-home cameras — many felt a storm coming. Amazon would be entering the smart home realm, and other players in the market would likely experience a ripple effect.
Among them would be Google, the parent company of Nest: a smart home company that produces, among other things, connected doorbells, in-home cameras, thermostats, outdoor cameras, and smoke detectors. Not long after the Ring acquisition was announced, Amazon claimed it would no longer carry or sell Nest products.
It's a power play by Amazon that has been described as "dumb" and "anti-consumer," and has some wondering if it violates antitrust laws, though that seems unlikely to most an anti-regulation administration.
But attempts to edge out competition is not exactly a new move for Amazon, as it continues to foray (often by way of acquisition) into a growing number of new sectors, like grocery, healthcare, and now smart home. But it's not the first, either, as Google has previously taken similar actions, like disallowing YouTube videos from playing on certain Amazon devices.
It should be interesting to see how this plays out search-wise, given Google's origins as a search engine. Currently, Google includes listings from Amazon in its shopping results on the SERP — but considering recent events, it won't come as a particularly big surprise if that changes.
Google search result with Amazon shopping results in the featured snippet.
Other News You May Have Missed
What You Missed Last Month in Google. Being that it's a shorter month, February seems to have flown by. A lot happened in the world of tech, much of the news coming from Google. We've put together another list of the major highlights. Read More »
You Can Apply for Jobs on Facebook Now. Facebook announced a new feature that will allow Facebook business Pages to post jobs and manage applications on its platform. In more than 40 countries, administrators will be able to create job listings directly from their Pages, where they'll appear throughout Facebook like any other post or ad would: the Page itself, followers' News Feeds, and Marketplace — as well as Facebook's new "Jobs" dashboard. Read More »
Facebook Ended Its Explore Feed Experiment. Back in October, Facebook introduced a new initiative to put Page content in a separate feed from content within a user's personal network. It was one of the first efforts from Facebook to shift its emphasis from advertisers to users — and it would live under what the social media channel called the Explore Feed. Facebook ended that initiative — which Head of News Feed, Adam Mosseri, called "a trial response to consistent feedback" in the official announcement. Read More »
A Disaster Waiting to Happen? Businesses Could Send You Ads on Messenger. In November 2017, Facebook began internally testing Messenger Broadcast: a service for businesses that allows them to send marketing content to users, without building a bot. Last week, the social media platform announced that Messenger Broadcast would be available for testing to select Page administrators in the U.S., Mexico, and Thailand. Read More »
If You Think Twitter Is Unhealthy, You Can Now Apply to Study It. In a series of tweets, Twitter CEO Jack Dorsey announced that the social network would be enlisting the help of outside experts to determine the relative health of Twitter. This likely comes as a result of users who increasingly engage in negative, often hateful conversation on the platform. Read More »
That's all for today. Until next week, feel free to weigh in on Twitter to ask me your tech news questions, or to let me know what kind of news you'd like us to cover.